Potatoes & Other Starches
The only thing cozier than watching and smelling gorgeous orange squash as it roast in the oven, is eating said squash. This dish allows you to do both. So, hooray! I used different types of squash to maximize the range of natural flavors; butternut squash is the least sugary of the three vegetables here; Kabocha (a Japanese winter squash) is a tad sweeter and parsnips, once caramelized, have an almost candy-like flavor profile. The effect of eating these together (especially when paired with spiced almonds) is that while eating the dish,...
read more
  As someone who runs in horror from any recipe featuring the word "pastry," I decided that the best way to confront this fear was simply to refer to anything with dough AND a filling as "a samosa." (Apologies in advance, to anyone who knows enough about samosas and Indian cuisine to find the glaring flaws in this recipe / logic.) I decided to try these "samosas" out for Thanksgiving dinner, serving dozens of them with a few different fillings (curried cabbage, cumin-flavored carrots & peas, and a coconut-creamed corn). The...
read more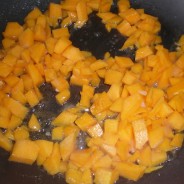 Recently, I've been inspired by (read: awake all night thinking about) the idea of deconstructing and reinventing some of my favorite one-pot dishes. Three that I was particularly tickled by were: 1) "what if I made Korean bibimbop but in sushi form, with cabbage leaves for the outer casing?" 2) "what if I could make some sort of paella / lasagna hybrid by infusing saffron into my noodle dough?" 3) "what if I made ravioli based on the ingredients of a vegetarian Moroccan tagine?" Knowing my penchant for carrying things...
read more