Coconut Corn Samosas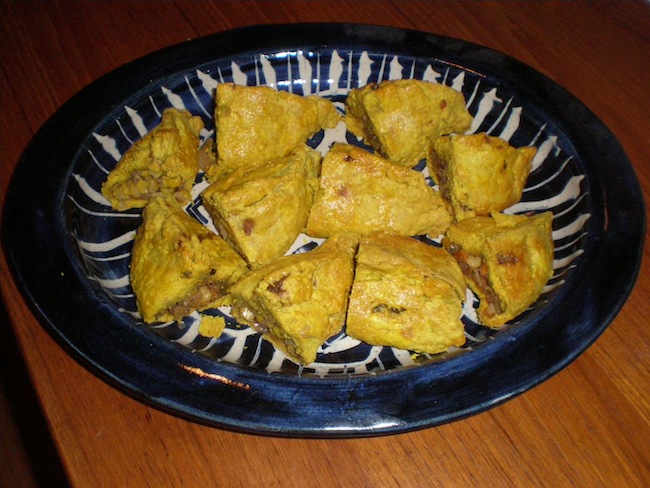 As someone who runs in horror from any recipe featuring the word "pastry," I decided that the best way to confront this fear was simply to refer to anything with dough AND a filling as "a samosa." (Apologies in advance, to anyone who knows enough about samosas and Indian cuisine to find the glaring flaws in this recipe / logic.) I decided to try these "samosas" out for Thanksgiving dinner, serving dozens of them with a few different fillings (curried cabbage, cumin-flavored carrots & peas, and a coconut-creamed corn). The latter had the most successful flavor balance: slightly tart, caramelized onions alongside a ginger and coconut-creamed corn. And, unlike most samosas where the filling ingredients are indistinguishable from one another, this samosa had a delicious inner texture and a beautiful purple/yellow color-contrast. Also, the dough was excellent and I look forward to experimenting with it more. Maybe I'll make a curried pie with it at some point! Let me know if you have any oddball ideas I can add to my culinary to do list!
Samosa Dough
2 cups (plus an additional half cup) unbleached, white flour
2 cups whole wheat flour
4 teaspoons turmeric
1 teaspoon fine sea salt
1.5 cup chilled coconut oil
4 teaspoons apple cider vinegar
1cup plus 4 tablespoons ice water
2 eggs, beaten
Combine 2 cups of the white flour with the wheat flour, turmeric, and salt.
Add the coconut butter to the flour mixture and rub with your fingertip until the mixture starts clumping together. This takes a good 7 minutes. (No, I'm not joking. It really takes that long.)
Add the vinegar and water to the dough and continue kneading until the dough stops sticking to the sides of the bowl. Squeeze the dough into a ball, cover it in plastic wrap, and refrigerate for at least an hour.
Preheat the oven to 350F and remove the dough from the refrigerator.
Spread the reserved ½ flour on a flat surface and roll out the dough until it's about 1/8" thick. Cut as many 6"-diameter circles that you can (I just pressed a cereal bowl into the dough and cut around the edges). Spoon 2 heaping tablespoons of the filling onto the lower half of each circle (leaving about a ¼" border). Fold the top half down and pinch the edges together to seal it. You can also make ridges along the edges with a fork.
Transfer the samosas to a parchment-lined baking sheet and brush with the beaten eggs.
Bake until golden brown, about 35 minutes. Serve with Watercress dip.
---
Coconut Corn Filling
1 tablespoon coconut oil
1 small red onion, dices
1/2 tsp ground allspice
3 cups frozen corn (defrosted)
1 tablespoon minced fresh ginger
1 cup coconut milk
1 tsp sugar
ground sea salt
ground black pepper
In a medium over medium heat, combine the coconut oil, onion, allspice and 1/8 tsp salt and sauté, stirring often, about 12 minutes.
Add the defrosted corn and ginger and cook, stirring frequently until everything is soft, about 5 minutes.
Reduce the heat to low, add the coconut milk and the sugar and simmer, stirring often, for 10 more minutes. Season with salt and pepper to taste.