Designers
The Latin word "prorsum," meaning "forwards," was first added to the Burberry Equestrian Knight Logo in 1901. It's an apt name for the brand's most luxurious runway line, which under Christopher Bailey's keen direction, consistently lives up to it's definition— nodding to legendary tartans while showing consistently modern, punk opulence. Stylesequel quotes Bailey as saying "I'm a very down-to-earth designer in the sense that I love that mix of really classic, traditional, historical design with real fashion." In 2001,...
read more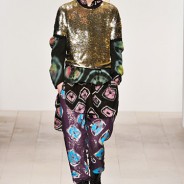 Meet Ashul, the androgynous 35-yr-old who was conceived in a marijuana den by a former disco queen and one of the Loadies/grassy-knoll occupants from the movie Clueless. She is a happy anti-establishmentarian with an IQ of 180— an intelligence she's gained throughout schooling across 3 continents and 4 decades. During this time, she's built quite the fashion archives, which she likes to flaunt all at once, hence the wonky layering. The pictures above were taken at a show in which 37 models, styled in Ashul's...
read more
Here's a great mini interview with British designer and 2011 British Fashion Council Fashion nominee Jonathan Saunders. What's the inspiration behind your first pre-fall line? I usually work with a lot of color and pattern and textures and that's kind of always been at the core of what we do in the collection. [For] Pre-fall, the silhouettes are quite feminine and soft so it's kind of like early sixties, which feels good after spring being very bright colors – this is a good move forward. The prints are...
read more
The severe (plastic/acrylic?) neck collars in Acne's Fall/Winter 2012 collection remind me of glossy chiropractor braces, which unfortunately is not a standout criticism amidst a line that, as a whole, appears cold and clinical. The palette features fleshy camels, bloody reds and hospital blue, coupled with equally chilly futuristic neon (orange and lime). The most bizarre silhouettes seem to tortuously marry the persona of a space-station dominatrix with some sort of punk-lumberjack. What the heck? Unfortunately, I see the entire line as a...
read more
McQ's AW2012 line commences with sexy and authoritative Eastern-European-esque outerwear; expertly-crafted, wooly, neutral hourglasses for the McQueen woman who, even at a lower-price point, feels like a masterpiece. It's a scientific fact that any object appearing in a lit space will have a shadow. And, I think it's a design fact that any McQueen creation in a lit space will have a more mysterious shadow than any object around it. What is this exquisite, "savage" darkness that follows and sways around...
read more
In A Detacher's Fall/Winter 2012 collection, sophisticated Asian references meet playful snow bunny styling; slick hair is gathered atop the head in a large bun, visually serving as both a Geisha knot and a ski hat's pom-pom. Overall, the palette is neutral and warm, featuring consistent pops of feminine, retro colors, as well as what I'm objectively referring to as "80's secretary patterns" (you know, when women's business-wear was basically shrunken down menswear): houndstooth, plaid, argyle and one busy floral. Throughout,...
read more