Pasta
  My day started at the farmer's market. Well, actually it started with a hangover, followed by the grouchy realization that I needed to bring my car to the shop for a pricey operation. But, after that, it started at the farmer's market. Still quite fuzzy and unsteady from the aforementioned hangover, and at this point, uncaffeinated, I ran around the market, tasting various types of lettuces, homemade jams and about 800 calories worth of various cheeses on toothpicks. Standing in front of some root vegetables and feeling inspired by the...
read more
  I've always thought of ravioli as tiny, warm envelopes of wonderment. This recipe tastes the reference literally by creating small enveloped of pea and pesto puree. Milder than an actual pesto but similar in color, this filling makes for a beautiful green surprise on the plate. I served this recently alongside my roasted tomato/sausage sauce, and I thought the smokiness of the sauce really complimented the freshness of the filling. Additionally, the bold sausage paired nicely with the sweet (almost innocent texture) of the peas....
read more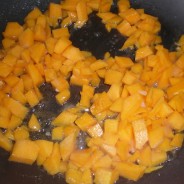 Recently, I've been inspired by (read: awake all night thinking about) the idea of deconstructing and reinventing some of my favorite one-pot dishes. Three that I was particularly tickled by were: 1) "what if I made Korean bibimbop but in sushi form, with cabbage leaves for the outer casing?" 2) "what if I could make some sort of paella / lasagna hybrid by infusing saffron into my noodle dough?" 3) "what if I made ravioli based on the ingredients of a vegetarian Moroccan tagine?" Knowing my penchant for carrying things...
read more