American Cuisine
  The idea for this dish came out of "left field," aka: that beautiful place from which all of my favorite experiences, people and creations wander forth (cue James Earl Jones' voiceover). I woke up last Friday morning with an unusual flavor tickling at my mouth— hints of toasty cumin, bright chilies and rustic vegetables. The idea sat with me curiously all morning, weighing on my head like a Pinocchio doll that's trying to become real. Driving to a rock show late at night, I continued testing out ideas in my head. For me, writing...
read more
  My day started at the farmer's market. Well, actually it started with a hangover, followed by the grouchy realization that I needed to bring my car to the shop for a pricey operation. But, after that, it started at the farmer's market. Still quite fuzzy and unsteady from the aforementioned hangover, and at this point, uncaffeinated, I ran around the market, tasting various types of lettuces, homemade jams and about 800 calories worth of various cheeses on toothpicks. Standing in front of some root vegetables and feeling inspired by the...
read more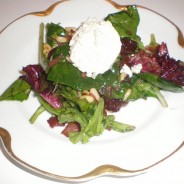 "Hi, my name is Bre, and I have a problem with lettuce." Yes, it's true. I've never really taken to the whole traditionally-defined salad category. I just never saw how iceberg or romaine lettuce could be interesting enough to warrant me choosing a salad over, oh, any far superior dish on the menu. I mean, don't get me wrong— there are some rad salad dressings out there (Thai peanut, goddess, Chinese sesame)— but all these seem to do is disguise the lettuce as a makeshift entrée (like, "hey, let's make a salad that tastes...
read more
In this soup, eggplant, tomatoes, garlic and fennel are roasted together to create a beautiful, lightly creamy base. Then, a fried wonton-dumpling, stuffed with fresh basil and goat cheese, elevates the dish with its crispy texture and fresh flavor burst. This soup is easy to prepare, great for a fall dinner party and makes a spectacular presentation. As you can see in the pictures, I served this soup with 1 wonton per dish. However, I like the idea of serving this as a main entrée and using 2-3 wontons per bowl.   Soup Ingredients: 6...
read more
Anyone who has tried truffle mushrooms knows that they're a holy substance, and priced accordingly. Truffle oil packs the flavor of truffle mushrooms into a small bottle that costs anywhere from $10-20 and can last for years (like saffron, a little bit goes a long way). I bought mine at Whole Foods, but sometimes you can score a good deal in the kitchen sections of TJ MAXX or Home Goods (I know, weird, right?) I made this dish to go with my family's Thanksgiving dinner and it was a huge hit: simple, delicious and an equally flavorful...
read more
The only thing cozier than watching and smelling gorgeous orange squash as it roast in the oven, is eating said squash. This dish allows you to do both. So, hooray! I used different types of squash to maximize the range of natural flavors; butternut squash is the least sugary of the three vegetables here; Kabocha (a Japanese winter squash) is a tad sweeter and parsnips, once caramelized, have an almost candy-like flavor profile. The effect of eating these together (especially when paired with spiced almonds) is that while eating the dish,...
read more
  Let's get a few things straight:1) Pretzels (aka: salt delivery-methods) are one of the greatest snacks out there. Quick disclaimer: I spent a good portion of my life in Philadelphia, the unofficial birthplace of the soft, twisted pretzel. Regardless, I think this argument is pretty solid. Point #2: Mozzarella sticks are ALSO awesome. Point #3: A culinary mash up of mozzarella sticks and pretzels is… wait for it… DOUBLE awesome. Duh. Yes, indeed. I made this cheesy balls of wonderment for a football party and they were...
read more
  Ingredients: 2 cups port (aged is better, but get what you can afford) 2 cups sherry vinegar 3 tablespoons canola oil 1 pound fresh wild mushrooms (I basically walked into the grocery store and picked out 3 types of odd looking woodland mushrooms; all I can say for sure if that they were not Portobello— one of them might have been Porcini. They were definitely some shade of brown. Ha. My memory is terrible.) 2 branches fresh thyme 1 clove garlic, peeled and halved 1 large shallot, peeled and finely diced 5 tablespoons unsalted butter...
read more