Roasted Winter Squash and Parsnips with Maple Glaze and Spiced Almonds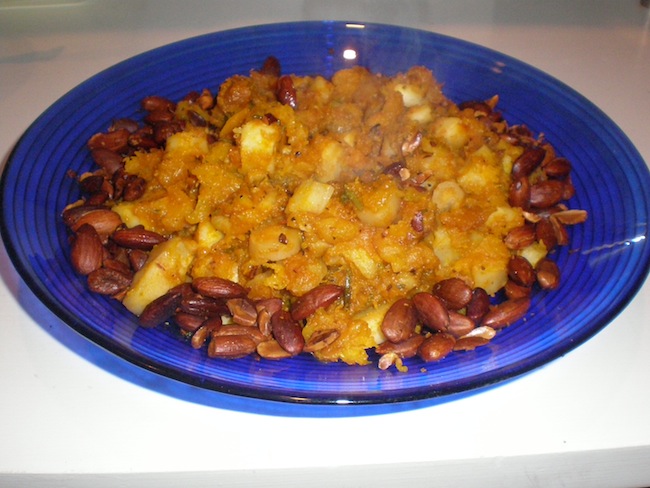 The only thing cozier than watching and smelling gorgeous orange squash as it roast in the oven, is eating said squash. This dish allows you to do both. So, hooray! I used different types of squash to maximize the range of natural flavors; butternut squash is the least sugary of the three vegetables here; Kabocha (a Japanese winter squash) is a tad sweeter and parsnips, once caramelized, have an almost candy-like flavor profile. The effect of eating these together (especially when paired with spiced almonds) is that while eating the dish, you experience varying levels of color, sweetness, earthiness and nuttiness. Oh, and a megadose of vitamin A, to help give you a happy glow!
---
Ingredients:
2 cups 1/2-inch cubes peeled kabocha squash (about 1 1/2 pounds)
2 cups 1/2-inch cubes peeled butternut squash (about 1 1/2 pounds)
2 cups 1/4- to 1/3-inch cubes peeled parsnips (about 12 ounces)
5 tablespoons butter
1/2 cup pure maple syrup (the real stuff, please. Not something made by a fictitious southern aunt)
2 garlic cloves, minced
1 1/2 tablespoons chopped fresh rosemary
1 teaspoon salt
1/2 teaspoon freshly ground black pepper
3/4 cup coarsely chopped almonds (about 3 1/2 ounces)
1 tbsp. olive oil
½ tsp sugar
½ tsp Sichuan pepper
an extra pinch of salt and pepper
---
Directions:
To prepare the almonds (I like to do this while I'm carving up the various squash):
Turn oven to 325. Mix the almonds with 1 tbsp. olive oil, ½ tsp Sichuan pepper, ½ tbsp. of the sugar and a little salt. Bake, tossing every 5 minutes, for 20 minutes total. Remove from the oven and set aside until you're ready to serve the squash.
To prepare the squash: Combine the kabocha, butternut squash and parsnips in large glass casserole dish.
Melt the butter in small saucepan over medium heat and stir in the in next 5 ingredients (maple syrup, garlic, rosemary, salt and pepper). Pour this over the squash mixture and toss to coat.
Preheat oven to 375°F. Cover squash mixture with foil. Bake, covered, for 40 minutes.
Uncover and continue baking for 20 minutes.
Garnish with the spiced almonds and serve.
Original recipe by Bre Goldsmith