Moroccan Carrot Ravioli with Onion Apricot Sauce
Recently, I've been inspired by (read: awake all night thinking about) the idea of deconstructing and reinventing some of my favorite one-pot dishes.
Three that I was particularly tickled by were:
1) "what if I made Korean bibimbop but in sushi form, with cabbage leaves for the outer casing?"
2) "what if I could make some sort of paella / lasagna hybrid by infusing saffron into my noodle dough?"
3) "what if I made ravioli based on the ingredients of a vegetarian Moroccan tagine?"
Knowing my penchant for carrying things through, especially when they're almost stupidly weird, I can guarantee that those first two will get made at some point. However, I'm here to talk to you about the third.
When writing the recipe, I chose to use carrots and squash because, aside from being some of my favorite vegetables, they're starchy enough to absorb strong flavors, even in small quantities. Then, I spiced the filling so it would be bold enough to cut through the wonton noodle, but not so bold as to compete with the sauce.
The idea for the sauce was based on the fact that onions and apricots are staples of Moroccan cuisine: cooked onions (along with ginger and garlic) serve as the base of most warm dishes, raw onions are often scattered atop as a garnish, and apricots are used in whole / paste form throughout a variety of side dishes, entrees and desserts.
Anyway, I was quite pleased (dare I say "wowed) by the ultimate effect. I get a very silly and devilish pleasure from succeeding with a dish that conceptually shouldn't even work. [insert evil cackle.] So, let it stand as a quiet reassurance that whenever you come up with some impossibly strange culinary feat, I'm likely sitting here at my notepad, thinking of one that's even stranger.
---
Ingredients:
1 packet wonton Wrappers (available at most grocery stores)
3 Carrots, Peeled and Diced
½ cup butternut squash
1 tablespoon Unsalted Butter
1/2 tsp. lemon juice
1 teaspoon Ground Cumin
½ onion
1 clove garlic
1/4 teaspoon Ground Coriander
1 tablespoon Panko bread crumbs
1 Tbsp. + 1 Tsp. Olive Oil
---
Directions: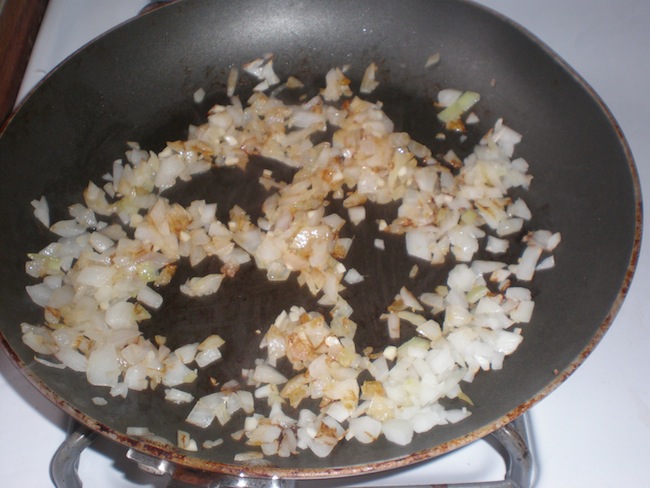 Heat 1tbsp olive oil and cook the chopped onions for 5 minutes until they appear translucent. Add the garlic and cook 1 minute more, stirring.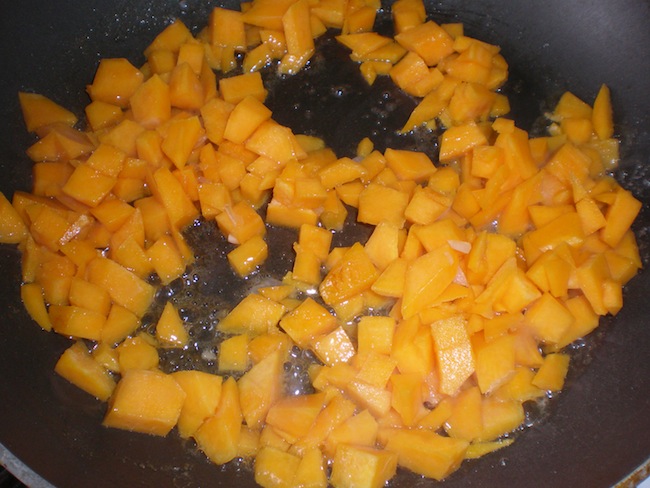 In separate pan, melt the butter over medium heat; then, stir in the brown sugar. Toss in the diced squash and carrots and cook for 15 minutes over a low/medium heat until all of the pieces are tender. It's important to stir the pan regularly so the carrots don't burn.
Add the carrot-squash mixture to the food processor, along with the lemon juice, cumin, coriander, extra Tbsp. of olive oil and the panko. Pulse until a paste is formed.
To prepare the ravioli: Fill a bowl with cool water and set it next to your workspace. Lay a wonton wrapper down on the cutting board or counter, and place approximately 1 teaspoon of the carrot paste in the center.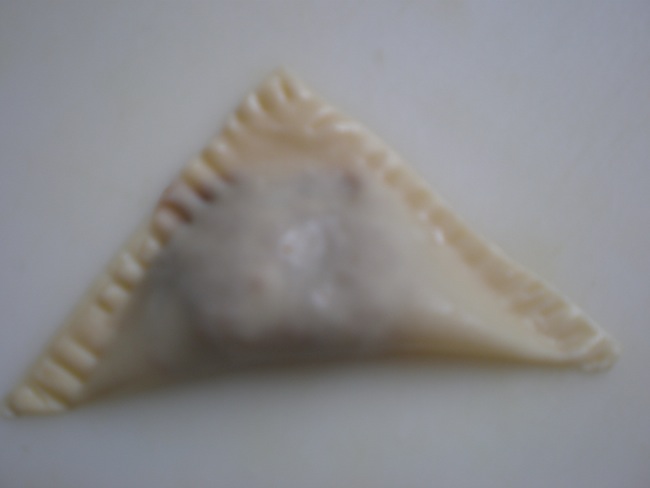 Wet your fingers generously with water and trace the border of that wrapper (alternatively, you can use a pastry brush). Fold the wonton in half (on the diagonal) so it forms a triangle and seal the edges by pinching it with your fingers. Additionally, I like to go over the edges with the ends of a fork, just to be certain. (I still have nightmares about the first time I made fresh ravioli and within seconds of boiling them, all of the filling exploded into my cooking water. I was 16, raging with perfectionism, and did not take it well.)
Once all of the ravioli are formed, bring a large pot of water to boil. Boil the ravioli for 1-2 minutes and drain carefully, keeping in mind the delicacy of wonton wrappers. You can tell that the ravioli is done when it begins to rise to top of the pot. Note: If you want to make the ravioli ahead of time, you can freeze them IN A SINGLE LAYER as they tend to stick together (yes, there's another ravioli-making horror story to go along with this lesson; remind me to tell you about it.) To warm them, drop the frozen ravioli into boiling water and cook 7 minutes.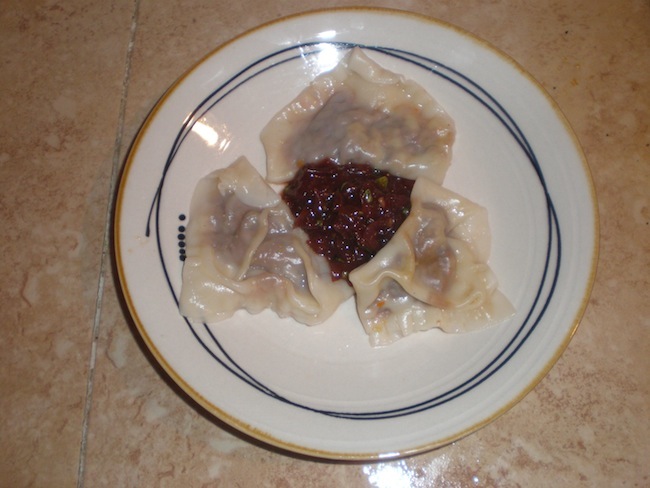 Serve with Onion Apricot Sauce and garnish with chopped cilantro.
Original recipe by Bre Goldsmith