Sauces & Salsas
  I'm not sure when mayonnaise and cream became the most popular accompaniments to beautiful, healthy vegetables, but it's gotta stop. Seriously, people. It's intervention time. There needs to be an alternative! "Wait, what? There IS an alternative? What is it?!" Well, Bre's-inner-voice, funny you should ask. Here's a dressing where watercress and fresh herbs come together to make a flavor-packed, crisp and creamy party dip! Disclaimer: there is a bit of fat, but it just serves to kinda keep things together, make this look...
read more
  Even if you've only learned about Italian culture from staple mafia movies "Goodfellas" and "The Godfather," you know that the concept of "respect" (earning, giving, exemplifying) is essential. And, while I wouldn't use these movies as a teaching tool about Italian  life, business, relationships, etc., I do think the lesson of "respect" extends VERY well to Italian food. Think of the process of cooking the following staple Italian dishes:1) a beautiful caprese salad (thickly sliced tomatoes and crisp basil leaves) 2)...
read more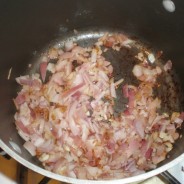 This sauce was written as one component of my experiment to deconstruct a Moroccan Tagine and reimagine it in ravioli form. The main part of the entrée— the squash and carrot ravioli— had a feisty cumin-heavy flavor that needed to be balanced by a slightly tangy and sweet sauce. Enter: caramelized onions and apricots. Admittedly, this is an experiment that should have never succeeded, but somehow did. And, since the sauce ended up being the most revered part of this dish, I have since made a big jarred batch and applied it to a whole...
read more