Low Fat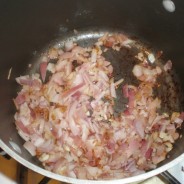 This sauce was written as one component of my experiment to deconstruct a Moroccan Tagine and reimagine it in ravioli form. The main part of the entrée— the squash and carrot ravioli— had a feisty cumin-heavy flavor that needed to be balanced by a slightly tangy and sweet sauce. Enter: caramelized onions and apricots. Admittedly, this is an experiment that should have never succeeded, but somehow did. And, since the sauce ended up being the most revered part of this dish, I have since made a big jarred batch and applied it to a whole...
read more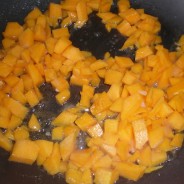 Recently, I've been inspired by (read: awake all night thinking about) the idea of deconstructing and reinventing some of my favorite one-pot dishes. Three that I was particularly tickled by were: 1) "what if I made Korean bibimbop but in sushi form, with cabbage leaves for the outer casing?" 2) "what if I could make some sort of paella / lasagna hybrid by infusing saffron into my noodle dough?" 3) "what if I made ravioli based on the ingredients of a vegetarian Moroccan tagine?" Knowing my penchant for carrying things...
read more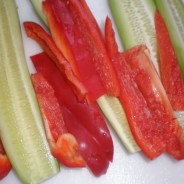 I'm not sure why, but people seem very judgmental and ill-informed about the whole business of pickling. I mean, when you get down to it, "a pickled vegetable" is really just a vegetable that someone has poured vinegar over and then walked away from for a few minutes. Yeh, that's all. It was only in a recent conversation with my mother, during which her reaction to pickling was "oh, that's gonna take FOREVER," that I became aware of the misconception. As if pickling is a task that is culturally united with basket...
read more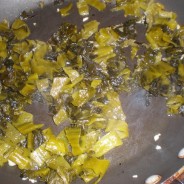 I'm not gonna lie. When I went to the Asian grocery store and found the "prepared mustard greens" in the refrigerated section, they looked like a bag full of some mangled swamp creature. Basically, they've been pre-preserved in some way so they can sit on a shelf indefinitely, awaiting transformation. My main thought was "these are probably gonna taste like shit."  Well, after a couple good baths and a splash of vinegar here and there, these mustard greens turned out to be pretty darn spectacular. I served them as a side...
read more