Instrumental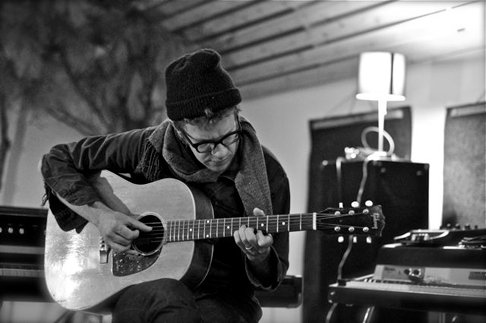 I'm a lyrics-junkie— there's little more powerful than the right, unexpected word planting itself in your brain and growing wild, synaptic roots. I'm also a harmony-junkie— listen to almost anything in my music catalog and you'll find a bunch of joyous vocal swirls bowing together.
So now that I've told you what I love, get your jaw ready because I need you to be extra shocked when I reveal a current obsession that features NEITHER of these musical characteristics. Yep, that's right. Just instruments.
Durham-based Phil Cook, of the exceptionally talented Megafun, released Hungry Mother Blues in 2011 (under the moniker Phil Cook & His Feat), and in the joint opinion of everyone I've shared it with, "it's exceptional." With each listen, I try to understand how this wordless entity can move me so profoundly, and why, ever time my ears are craving an afternoon jumpstart, I return to it.
As a blog-reading enthusiast, I've had to work hard at objectively separating myself (the reader) from the subject of an interview or profile. So often, I'll read a quote and think "Yep, he and I are GOING to be friends. Some day, in some random place, we are totally gonna share and beer and in the process, we'll probably find out that we're related." Such is the case with an interview that Phil did with Indie Week, during which he briefly describes his music philosophy:
"It's really liberating to just be able to take a little something from everywhere. Fuck that phrase 'jack of all trades, master of none.' What I'm trying to master is not any one of these instruments, but forgetting my head and listening to my heart. That's all I'm trying to do the whole time, no matter what I'm playing."
I just love this concept. So many people spit hatorade on musicians that try to "do too much." I have a friend that says "if you have time to learn a second or third instrument, you definitely have time to get better at the primary one. So, uhh, why don't you just do that." What Phil is saying is that ultimately, it's not about the instruments, it's about channeling whatever oddities are living in your heart— listening to them closely enough to be able to replicate them with whatever sound-making device happens to be in front of you.
Perhaps this is why I'm so magnetized to these songs. It matters not how the heart reaches forth — through a lyric, a banjo or a voice — it maters only that the heart is honest enough to do so.
 
"Lullaby and Lament", from Hungry Mother Blues:

The Jensens: