Dinner Entrées
There are two glaring reasons why I've never made risotto:1) I've been tricked into ordering risotto three times in my life, each time expecting to finally see the magic in this sticky, monochromatic, cheesy blob; each time feeling disappointed, foolish and even more disenchanted. 2) Risotto is the dish that famously gets people sent home on Top Chef. So, in other words, if the nation's top chefs can simultaneously burn a perfectly good cooking pot and a shot at $100k while making it, then the dish is 100% trouble and not worth...
read more
  Ingredients: 2 cups port (aged is better, but get what you can afford) 2 cups sherry vinegar 3 tablespoons canola oil 1 pound fresh wild mushrooms (I basically walked into the grocery store and picked out 3 types of odd looking woodland mushrooms; all I can say for sure if that they were not Portobello— one of them might have been Porcini. They were definitely some shade of brown. Ha. My memory is terrible.) 2 branches fresh thyme 1 clove garlic, peeled and halved 1 large shallot, peeled and finely diced 5 tablespoons unsalted butter...
read more
  I've always thought of ravioli as tiny, warm envelopes of wonderment. This recipe tastes the reference literally by creating small enveloped of pea and pesto puree. Milder than an actual pesto but similar in color, this filling makes for a beautiful green surprise on the plate. I served this recently alongside my roasted tomato/sausage sauce, and I thought the smokiness of the sauce really complimented the freshness of the filling. Additionally, the bold sausage paired nicely with the sweet (almost innocent texture) of the peas....
read more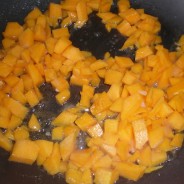 Recently, I've been inspired by (read: awake all night thinking about) the idea of deconstructing and reinventing some of my favorite one-pot dishes. Three that I was particularly tickled by were: 1) "what if I made Korean bibimbop but in sushi form, with cabbage leaves for the outer casing?" 2) "what if I could make some sort of paella / lasagna hybrid by infusing saffron into my noodle dough?" 3) "what if I made ravioli based on the ingredients of a vegetarian Moroccan tagine?" Knowing my penchant for carrying things...
read more