Pickled Mustard Greens

 I'm not gonna lie. When I went to the Asian grocery store and found the "prepared mustard greens" in the refrigerated section, they looked like a bag full of some mangled swamp creature. Basically, they've been pre-preserved in some way so they can sit on a shelf indefinitely, awaiting transformation. My main thought was "these are probably gonna taste like shit." 
Well, after a couple good baths and a splash of vinegar here and there, these mustard greens turned out to be pretty darn spectacular. I served them as a side dish for a Sichuan noodle and beef soup— one of those deals where I put it in a big bowl and people pass it around, spooning small amounts. After the first few bites, something wild happened: everyone started clamoring for the mustard greens and trying to sneak just one more leaf without another attendee noticing.
The next morning, after intensely looking forward to my mustard green leftovers and completing an exhaustive search of the fridge, I called my friend who had stayed late to help me with the dishes. He crumbled, admitting that while doing the dishes, he couldn't stop himself from nibbling at the last of those delectable pickled leaves. Grrr…… ughhh… blast it….
For the record, our friendship survived this mishap (phew), but I want it to stand as a warning: if you make this dish for a party, double it up and keep a private stash for yourself. Come lunch the following day, when you get a craving, you'll thank me.
---
Ingredients:
8-ounce package of prepared mustard greens (available at most Asian grocery stores)
2 tablespoons vegetable oil
1 garlic clove, minced
1 tablespoon sugar
a pinch of salt
1/2 red jalapeño chile, seeded and chopped
---
Directions: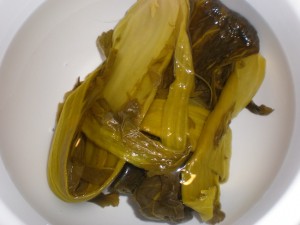 Rinse greens thoroughly: Soak greens in a large bowl of cold water for 10 minutes, then drain, and rinse, squeezing excess water from the leaves.
Cut out and discard the stem and base from your greens, then coarsely chop the leaves.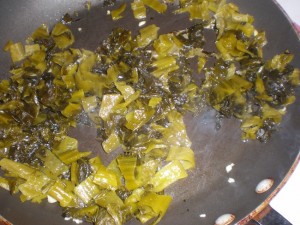 Heat oil in large skillet over medium heat. Add garlic and sauté 30 seconds. Then, add the chopped greens and cook for 3 minutes, stirring regularly.
Stir in the sugar, salt and chile, then cool 1 more minute.
Transfer greens to a bowl and let cool before servings. The greens can be keep up to a week in the refrigerator.