Roasted Eggplant Soup with Feta & Basil Dumplings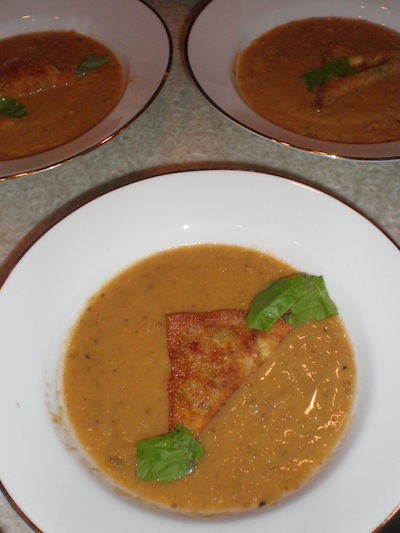 In this soup, eggplant, tomatoes, garlic and fennel are roasted together to create a beautiful, lightly creamy base. Then, a fried wonton-dumpling, stuffed with fresh basil and goat cheese, elevates the dish with its crispy texture and fresh flavor burst. This soup is easy to prepare, great for a fall dinner party and makes a spectacular presentation.
As you can see in the pictures, I served this soup with 1 wonton per dish. However, I like the idea of serving this as a main entrée and using 2-3 wontons per bowl.
---
Soup Ingredients:
6 medium tomatoes, halved
2 large eggplant (about 3 pounds), halved lengthwise
2 bulb fennel
2 small onion, halved
12 large garlic cloves, peeled
4 tablespoons vegetable oil
2 tablespoons chopped fresh thyme
8 cups (or more) chicken stock or canned low-salt chicken broth
½-1 cup whipping cream
Wonton Dumpling Ingredients:
1 tablespoon olive oil
3 shallots, chopped
1/2 cup (packed) soft fresh goat cheese, crumbled
1/2 cup chopped sundried tomatoes
1/4 cup chopped fresh basil
ground sea salt
ground black pepper
20 wonton wrappers
vegetable oil (for frying)
---
Directions for the Soup:
Preheat oven to 400°F. Place tomatoes, eggplant, fennel, onion and garlic on large baking sheet. Brush vegetables with oil and roast until all vegetables are tender and golden, about 45-1hr. Note: keep in mind that these vegetables are going to be pureed, so don't worry if they're not eligible for a beauty pageant when you take them out of the oven. If they're covered in brown splotches, that's just fine.)
Remove vegetables from the oven. When it's cool enough to touch, scoop out the insides of the eggplant (discard skin), and add it to a large saucepan alongside the other roasted veggies, thyme and chicken broth.
Bring the soup to a boil, then reduce the heat and simmer for 1 hour.
Working in batches, puree soup in the blender.
Return the soup to the pot. Stir in cream until you achieve the desired consistency (I used only ½ cup in mine but you might like your soups a bit creamier).
Bring to simmer, thinning with more chicken stock, if the soup starts to look lumpy. Season soup with salt and pepper.
Directions for the Wonton Dumplings:
Heat oil in small pan over medium heat. Add the shallots and sauté for 4 minutes. Remove shallots from the pan and cool in the refrigerator for 5-10 minutes.
Mix in the cheese, sundried tomatoes and basil, then sprinkle with sea salt and ground pepper.
To make the wontons: Fill a bowl with cool water and set it next to your workspace. Lay a wonton wrapper down on the cutting board or counter, and place approximately 1 teaspoon of the filling paste in the center. Wet your fingers generously with water and trace the border of that wrapper.
Fold the wonton in half (on the diagonal) so it forms a triangle and seal the edges by pinching it with your fingers. Additionally, I like to go over the edges with the ends of a fork, just to be certain. Place all wontons in a single layer on floured baking sheet (they can be made up to a day ahead of time).
Heat 1" of vegetable oil in a large frying pan. Heat until the mixture begins to bubble. Drop the wonton dumpling (one at a time) into the hot oil, turning over after about 30 seconds and quickly removing to a paper towel. Repeat with remaining wontons.
To serve: Fill each soup bowl and, using slotted spoon, place 1 or 2 dumplings atop the soup.
Original recipe by Bre Goldsmith