Goat Cheese Salad with Pancetta, Dried Cherry and Port Dressing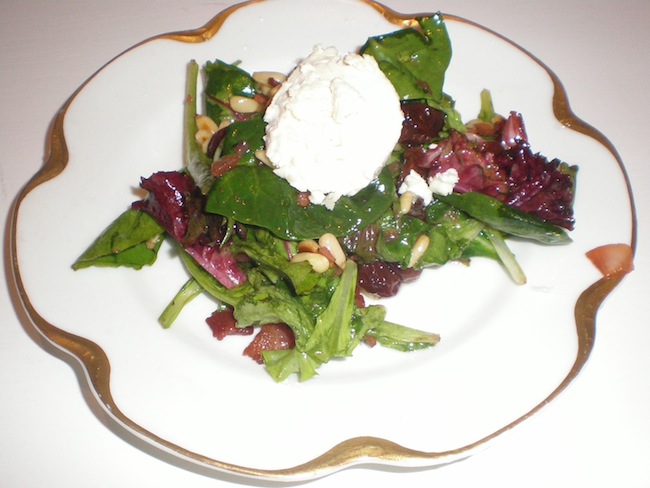 "Hi, my name is Bre, and I have a problem with lettuce."
Yes, it's true. I've never really taken to the whole traditionally-defined salad category. I just never saw how iceberg or romaine lettuce could be interesting enough to warrant me choosing a salad over, oh, any far superior dish on the menu. I mean, don't get me wrong— there are some rad salad dressings out there (Thai peanut, goddess, Chinese sesame)— but all these seem to do is disguise the lettuce as a makeshift entrée (like, "hey, let's make a salad that tastes like Pad Thai and, when all is said and done, has about the same amount of calories.") It's just weird. That said, the follow salad was the catalyst of my reformation. Here, lettuce is not a throwaway "filler" ingredient, but rather a purposeful peacekeeper, allowing all of these beautiful, incongruent foods to exist together on one fork. I mean, tell me an ENTREE in which nuts, port, cherries, bacon, and cheese can all sit next to each other without becoming some sad, drunken and fruity mac n' cheese? Seriously.
Ok, I'm off the soapbox now. Down from the pulpit. The bottomline is this: make this one. Eat it. It gives lettuce a good name. Hell, it even gives bacon a good name, which is really saying a lot.
---
Ingredients:
2.5 cups dried, unsweetened cherries
1 cup tawny Port
10 ounces pancetta or bacon, chopped
4 shallots, minced
2 garlic cloves, minced
2/3 cup olive oil
1/2 cup red wine vinegar
4 teaspoons sugar
10-ounce log soft fresh goat cheese
1 10-ounce bag mixed salad greens
1 cup pine nuts, toasted
---
Directions:
Combine cherries and Port in small saucepan and heat until the liquid comes to a quick simmer. Then, turn off the heat and let the pan sit for 15 minutes so the cherries can soak up the port liquid.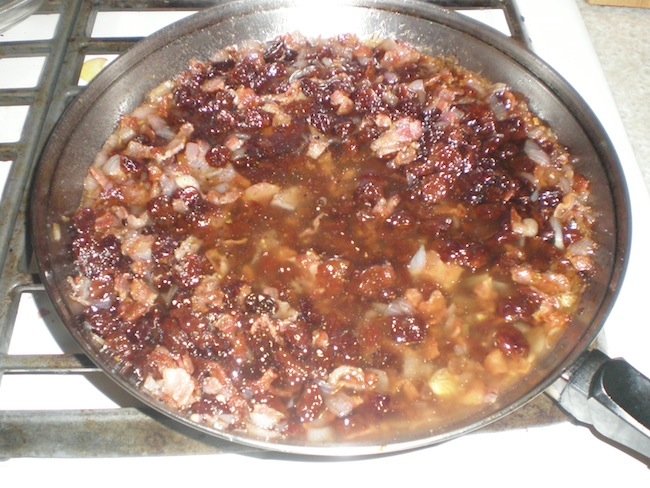 Meanwhile, in a separate pan, sauté the pancetta over medium-low heat until it begins to crisp, about 8 minutes. Add the shallots and garlic, and cook for 2 minutes.
Stir in the olive oil, vinegar and sugar, allowing the sugar to dissolve.
Add the cherry mixture and season with salt and pepper.
Cut the goat cheese into ½" pieces and bring to room temperature (alternatively, you can warm it in the oven at 350° for 3 minutes.)
Combine the salad greens, pine nuts and dressing in a large bowl. Because some people prefer less dressing, I like to under-dress the salad and then serve extra in a gravy bowl on the side.
To serve: Mount the salad onto a plate, top with a slice of the goat cheese and season with freshly ground pepper.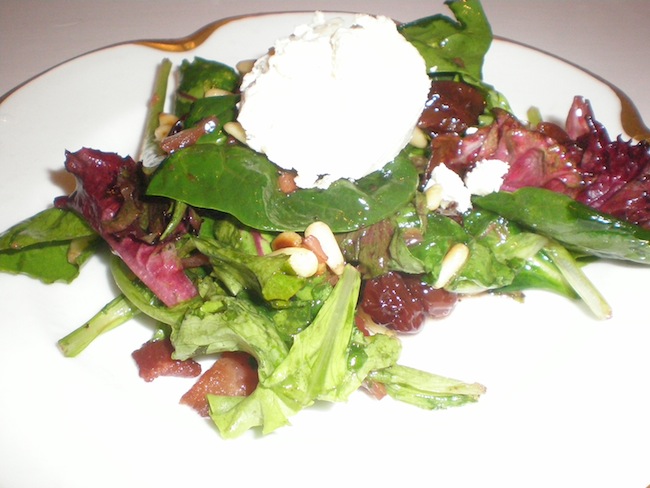 Adapted from the original, printed in Bon Appetit Magazine (Nov 1999)