Sweet Pea & Pesto Envelopes with Roasted Tomato Sauce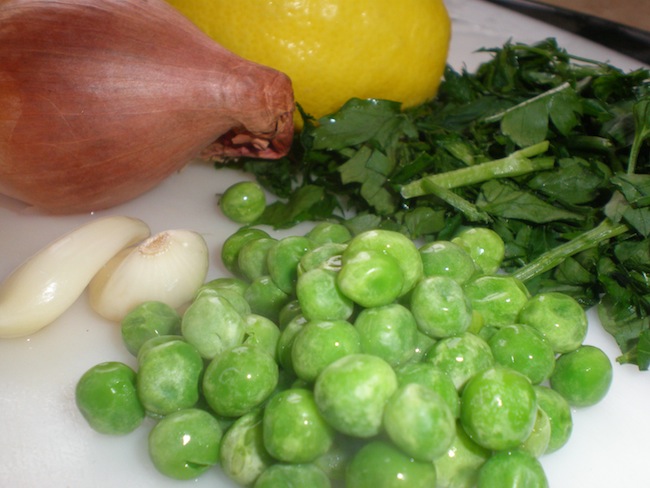 I've always thought of ravioli as tiny, warm envelopes of wonderment. This recipe tastes the reference literally by creating small enveloped of pea and pesto puree. Milder than an actual pesto but similar in color, this filling makes for a beautiful green surprise on the plate. I served this recently alongside my roasted tomato/sausage sauce, and I thought the smokiness of the sauce really complimented the freshness of the filling. Additionally, the bold sausage paired nicely with the sweet (almost innocent texture) of the peas. Although, if you want to make this a vegetarian dish, you could easily leave the sausage out of the sauce and serve this ravioli with spiced, roasted tomatoes.
---
Ingredients:
1 package wonton wrappers (available at most grocery stores)
1 16-ounce bag frozen sweet peas, blanched until just cooked through
2 small cloves garlic, minced
3 tablespoons diced shallots
1 tablespoon lemon zest
juice of 1 lemon
1/4 cup chopped parsley
¼ cup chopped basil
1/3 cup bread crumbs
1/2 cup grated or shredded Parmesan cheese
1/4 cup plus 1 tablespoon olive oil
---
Directions: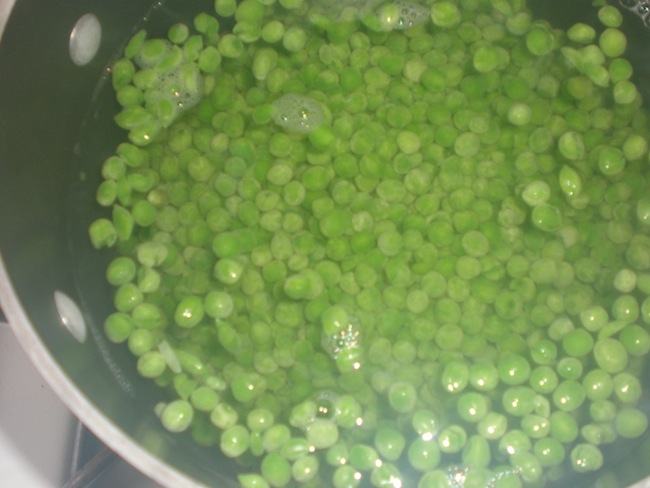 Bring a pot of water to a boil. Add a pinch of salt and boil the frozen peas for about 3 minutes, then drain.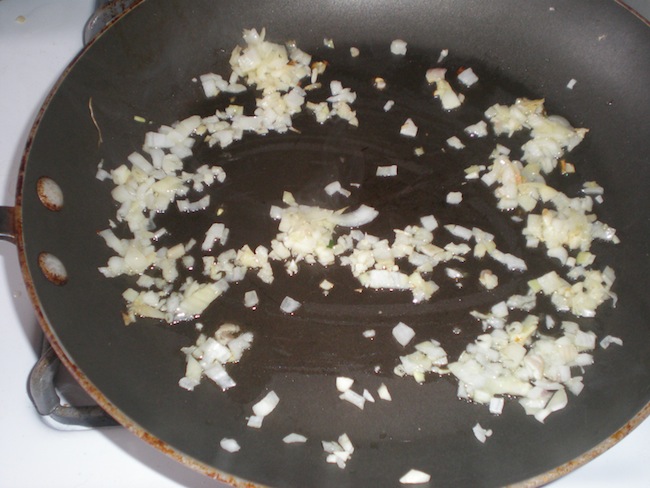 In a small pan, sauté the shallots and garlic until they're lightly browned— about 2 minutes.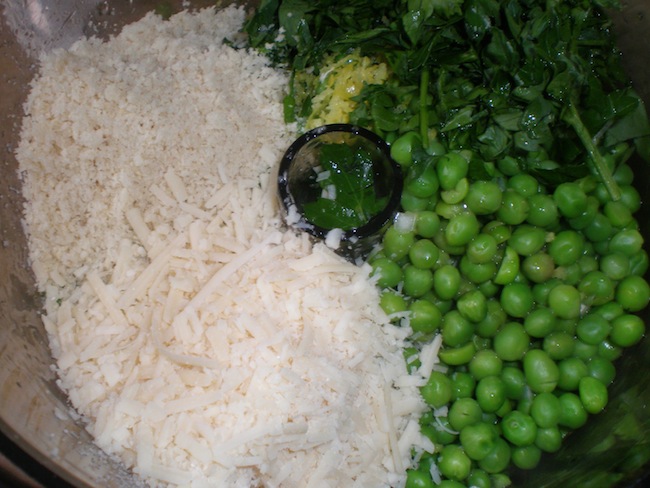 In a food processor, combine the peas, garlic, shallots, lemon zest and lemon juice, parsley, basil, bread crumbs, cheese and olive oil. Blend until all ingredients form a thick paste.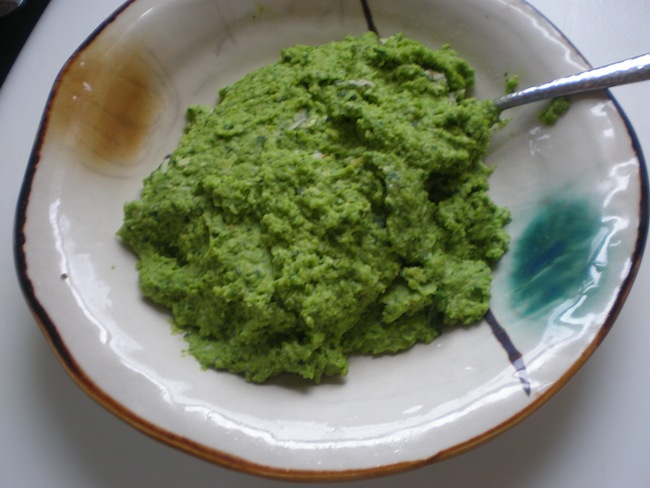 Remove the mixture from the food processor and place in a bowl.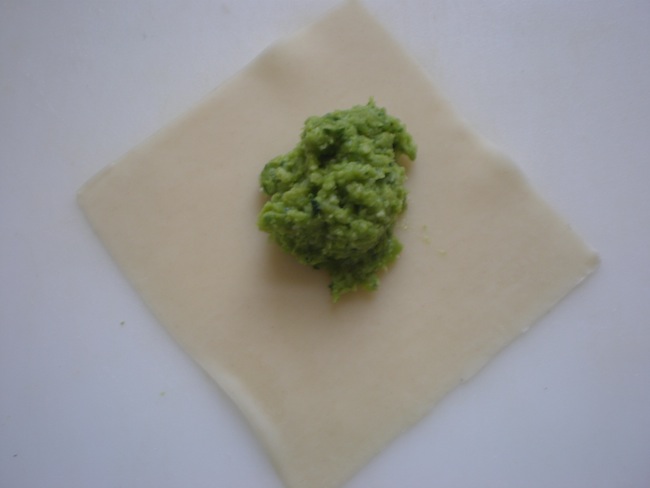 To prepare the ravioli envelopes: fill a bowl with cool water and set it next to your workspace. Lay a wonton wrapper down on the cutting board or counter, and place approximately 1 teaspoon of the pea pesto in the center. Wet your fingers generously with water and trace the border of the wrapper (alternatively, you can use a pastry brush).
Fold the wonton in half (on the diagonal) so it forms a triangle and seal the edges by pinching it with your fingers. Additionally, I like to go over the edges with the ends of a fork, just to be certain that the edges are secure. Then, fold both corners of the triangle inward, and close the envelope by folding down the final top corner. Wet your fingers again and press around the edges of the envelope to set everything in place.
Once all of the ravioli are formed, bring a large pot of water to boil.
Boil the ravioli for 1-2 minutes and drain carefully, keeping in mind the delicacy of wonton wrappers. You can tell that the ravioli is done when it begins to rise to top of the pot.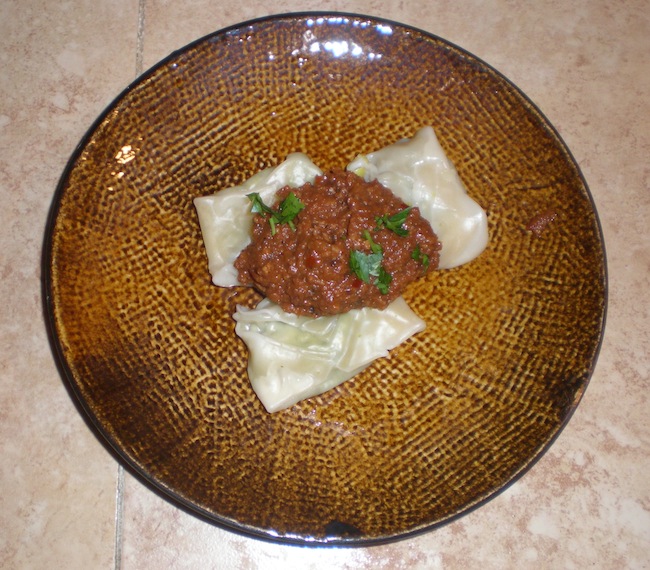 Serve with Roasted Tomato Sauce and garnish with chopped parsley.
Note: If you want to make the ravioli ahead of time, freeze them IN A SINGLE LAYER, as they tend to stick together. To warm them, drop the frozen ravioli into boiling water and cook 7 minutes.
This recipe was adapted from one originally published by Joy the Baker. If you aren't familiar with her site, I urge you to check it out. She's an incredible chef, food-photographer and inspiration.