Spicy Oven-Roasted Tomato Sauce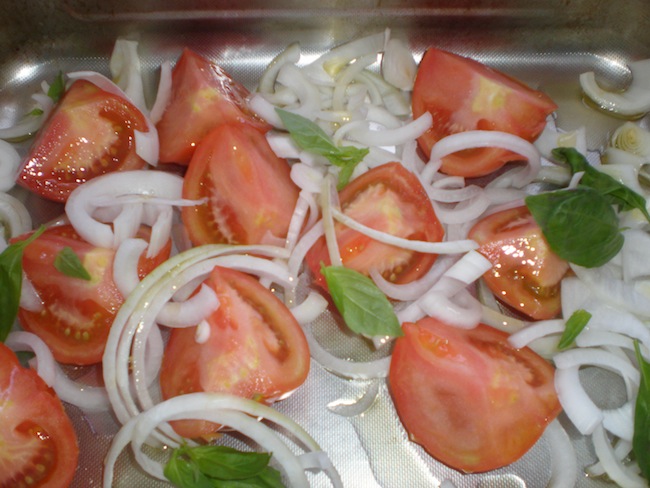 Even if you've only learned about Italian culture from staple mafia movies "Goodfellas" and "The Godfather," you know that the concept of "respect" (earning, giving, exemplifying) is essential. And, while I wouldn't use these movies as a teaching tool about Italian  life, business, relationships, etc., I do think the lesson of "respect" extends VERY well to Italian food.
Think of the process of cooking the following staple Italian dishes:
1) a beautiful caprese salad (thickly sliced tomatoes and crisp basil leaves) 
2) a hearty, slow-roasted marinara sauce 
We respect our ingredients by allowing them to grow and develop, by picking them only at the point when they are the most colorful, flavorful and alive.
We respect their flavors by gently giving them the time to mature and change: just 1 hour in a roasting pan can turn a tomato into fiery masterpiece and a spicy purple onion into sweet candy.
We show respect for our friends by serving them a plate of goodness that will make them feel healthy, warm and appreciated.
This sauce is imbued with respect. It will cast a ruddy sweetness on the pot it cooks in, and bless the furniture around your house with its hearty scent. Eat this with a flared nose, mind and heart. Bellisimo cuore.
---
Ingredients:
2.5 pounds fresh tomatoes
1 cup thinly sliced onions
4 cloves diced garlic
1 cup red wine
6 fresh basil leaves
1/2 lb. spicy Italian sausage
2 tsp crushed red pepper flakes
1/2 tsp ground black pepper
½ tsp ground sea salt
1 Tbsp. olive oil + additional Tbsp. for drizzling
---
Directions:
Preheat the oven 350 degrees.
Quarter all large tomatoes and half small ones. Arrange the tomatoes on a baking sheet in a single layer. Scatter sliced onions and basil leaves over the pan. Drizzle with olive oil and season with salt and pepper. Roast for 1 1/2 hours.
Meanwhile: Heat remaining oil in large pot over medium heat. Sauté the onions and garlic for about 5 minutes.
Add the sausage, breaking it apart with your fingers to distribute it throughout the pan. Cook for 10 minutes, mashing it with a spatula.
Stir in the red pepper flakes and black pepper.
Stir in the wine and let the mixture simmer until most of the wine has evaporated.
Remove the tomatoes and onions from the oven. Discard the basil and allow the tomatoes to cool slightly.
Using a food processor, blend the tomatoes until they liquefy, then add them to the pot of sausage.
Continue simmering the mixture for 40 minutes before serving.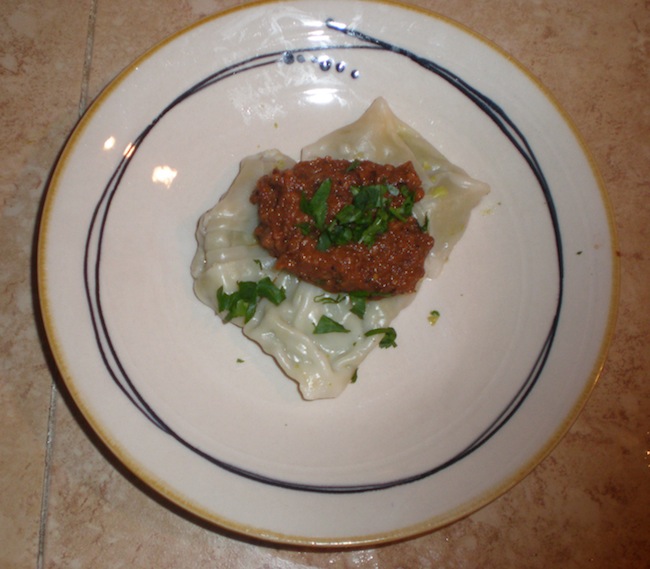 Original recipe by Bre Goldsmith