Burberry Prorsum Fall / Winter 2012
The Latin word "prorsum," meaning "forwards," was first added to the Burberry Equestrian Knight Logo in 1901. It's an apt name for the brand's most luxurious runway line, which under Christopher Bailey's keen direction, consistently lives up to it's definition— nodding to legendary tartans while showing consistently modern, punk opulence. Stylesequel quotes Bailey as saying "I'm a very down-to-earth designer in the sense that I love that mix of really classic, traditional, historical design with real fashion."
In 2001, Burberry CEO Rose Maria Bravo recruited a relatively unknown Bailey, who had only worked briefly at Tom Ford. Since, Bailey has managed the near impossible for an aging multi-line brand: giving each Burberry component a distinctive and creative identity while earning it a wild celebrity clientele. Kate Moss, likely the line's most famous muse, was photographed extensively in the early 2000's for her sexy styling of the formerly stodgy/masculine trench coat. Arguably kicked off by Moss' early ad campaign styling and continued street style prominence, the trench coat is now a must-have element of chic, feminine dressing.
In my mind, Prorsum's most unique role in the fashion industry comes from their consistent output of highly covetable cool-girl separates. I cannot think of any recent line that failed to spawn at least one must-have piece; a piece that ran almost ad nauseum into street style blogs, editors closets, and the inspiration boards or major fashion discount stores worldwide. Two years ago, it was their dark, shearling and leather aviator bomber (see below).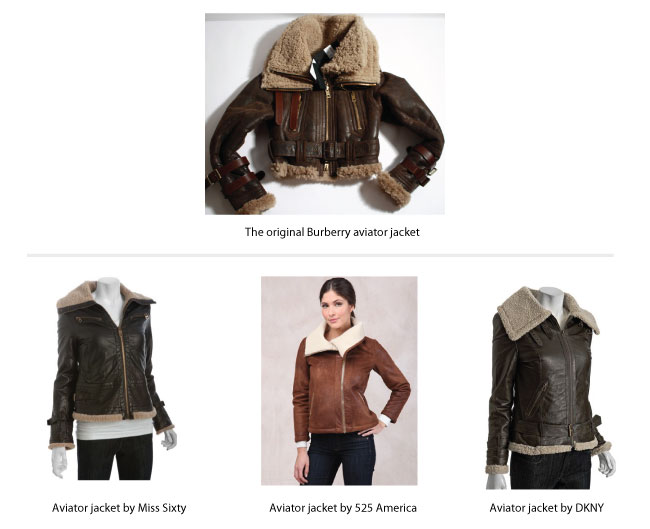 ---
Now, the striped raffia skirts from their Spring 2012 season are becoming an "it" item. Watch out!
Burberry Prorsum's Fall/Winter 2012 line confirms the label's creative and ruling status in the fashion world. It's another quintessentially British, ladylike, intelligent, mildly whimsical and collegiately-paletted collection for a multi-age woman. Though a few of their ruffle skirts remind a winter line that Donna Karan did a few years back, I really enjoyed their styling of the slouchy, slightly-cowled owl sweater tucked into a slim velvet skirt (shown below). I think it's safe to say that the knitted and bejeweled owl motif is a front-runner for the line's "most covetable style ideas of the season" award.
The above look was perhaps the most successfully styled of the show. Every season, I'm amazed by Burberry's ability to subtly bring together all of the top trends of the season without sacrificing the elegance of the overall effect. While the rugby skirt / pencil skirt combination was initiated by Isabel Marant last season, Burberry takes it many steps further, bringing in the slightly metallic plum bomber, the black spiked gloves / clutch, and the bowed cinch belt; simultaneously, this woman looks sporty, tough, rock & roll, cozy, weather-appropriate and oh so feminine (umm, hello again "Mad Men influence". Above all though, (even with all of it's colors and style references) this ensemble still looks easy, and I think herein lies the Burberry Prorsum genius: the ability of a line to simultaneously report on what's happening in the fashion world (particularly street fashion), and ever so gently, through styling, move this conversation forward.
Christopher Bailey has been given 4 awards by the British Fashion Council: "Designer of the Year" in 2005 and 2009, and "Menswear Designer of the Year" in 2007 and 2008.