Ashish: Fall / Winter Runway Review
Meet Ashul, the androgynous 35-yr-old who was conceived in a marijuana den by a former disco queen and one of the Loadies/grassy-knoll occupants from the movie Clueless. She is a happy anti-establishmentarian with an IQ of 180— an intelligence she's gained throughout schooling across 3 continents and 4 decades. During this time, she's built quite the fashion archives, which she likes to flaunt all at once, hence the wonky layering.
The pictures above were taken at a show in which 37 models, styled in Ashul's likeness, displayed a portion of his/her wardrobe for an elite New York City fashion crowd.
Despite the wide success of the show, one critical complaint is that none of the models bothered to smile while walking the runway. It begs the question of whether simply wearing clothes featuring one's universal gratitude / philosophical values is enough to excuse one from otherwise registering and exhibiting joy. I, for one, do not see one's wardrobe and one's personal attitude as separate expressions. A happy sequined rainbow dress should be an extension of the wearer's attitude, not a substitute. After all, his is "Rama," the highest eternal pleasure!! The least you could do is show the universe yo dang teeth! Yes?
The above text is intended as satire and does not reflect any actual details about the Ashish Fall/Winter 2012 runway show. The author of this post does, in fact, have tremendous respect for the artistic courage and experience of Mr. Ashish and means absolutely no offense.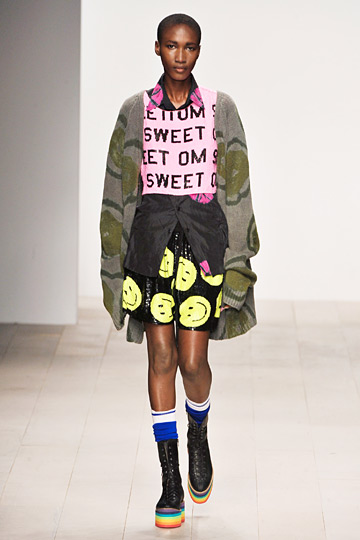 Ashish Fall / Winter Runway 2012
Ashish is a London-based fashion label designed by Gupta Ashish, who was born in New Delhi and studies at Central St. Martins (the school that launched the late great Alexander McQueen). Ashish has shown 3 major collections and has been lauded as one of the top new generation designers to show at British Fashion Week. Though Ashish designs in London, he has embroidery workshops in India and a secondary store in Toronto.