Curried Squid Salad with Cucumber Relish
Put plainly, this dish rocks. It has it all: crisp, spicy, fishy (ok, that's not really a flavor profile), salty, sweet, creamy, chewy, and on and on. It's so great that it's beyond categorization, although it's probably closest to Thai or Malaysian, if I were really pressed to pigeonhole it (please don't make me!)
Admittedly, I mostly made this recipe because I was convinced that in some way, the flavors wouldn't work together. But, they were brilliant. Everything was exceptionally colorful on the plate, and though I expected this rollup to be a little messy to eat, it ended up being a really elegant starter. Full of surprises, this one.
---
Cucumber Relish:
2 tablespoons distilled white vinegar
2 tablespoons sugar
1/2 cup finely diced unpeeled Persian cucumber
1/2 cup finely diced celery
1 red jalapeño chile, seeded and finely diced
1 1-inch piece peeled fresh ginger, finely slices
Squid Salad:
10 fresh cilantro stems, chopped
2 garlic cloves, halved
1 1-inch piece peeled fresh ginger, chopped
2 tablespoons vegetable oil
1 tablespoon Curry Powder
8 ounces cleaned squid bodies, cut into 1/4-inch-thick rings
1 red jalapeño chile, seeded and finely sliced
1 tablespoon fish sauce
1 tablespoon oyster sauce
½ cup coconut cream (see below)
1 teaspoon sugar
2 tablespoons low-salt vegetable broth
16 large Boston or Romaine lettuce leaves
Coconut Cream:
2oz unsweetened flaked coconut, 1/4 cup coconut milk and 1/4 cup heavy cream.
---
For coconut cream:
In a heavy saucepan, mix the grated coconut with the coconut milk and cream. Bring slowly to a boil, stirring often. Cover with a lid and let stand 5 minutes. Using a slotted spoon, remove the flaked coconut.
For cucumber relish: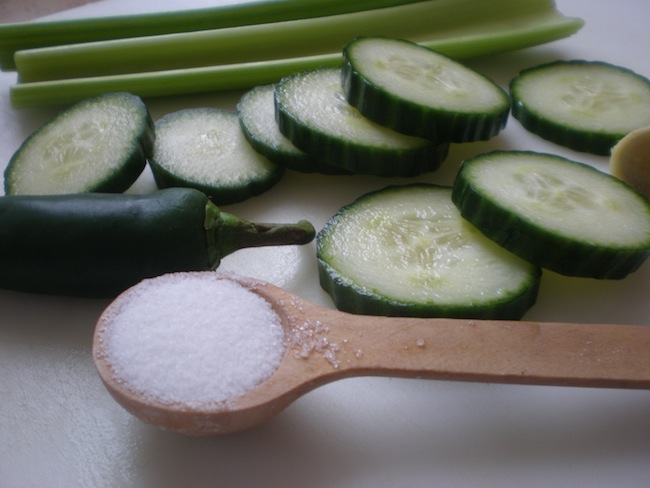 Stir vinegar and sugar in small bowl until the sugar dissolves; set aside.
Combine the sliced cucumber, celery, chile, and ginger in a small bowl. Pour the sugar-vinegar mix over and stir to combine.
Let the relish sit for an hour before serving to let the flavors mingle and develop.
For squid salad: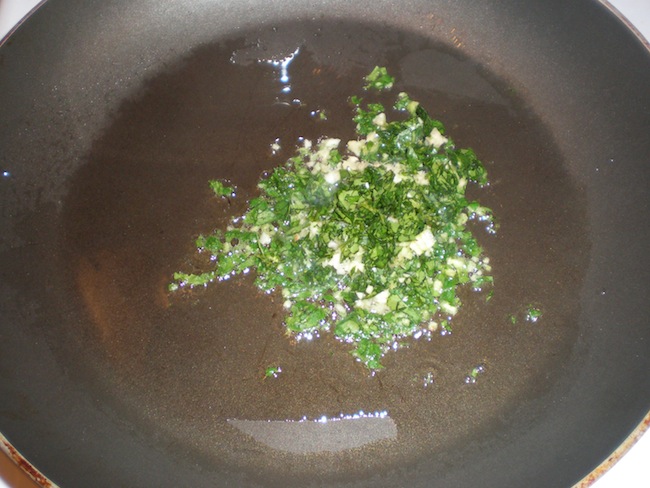 Combine the cilantro stems, garlic, and ginger in mini food processor and blend until a paste forms.
Heat the vegetable oil in large skillet over medium-high heat. Add the cilantro paste and cook for 1 minute, stirring.
Stir in the curry powder.
Add squid and chile strips, and stir-fry until the squid is almost tender, about 1 minute. Stir in the fish sauce, oyster sauce, and sugar.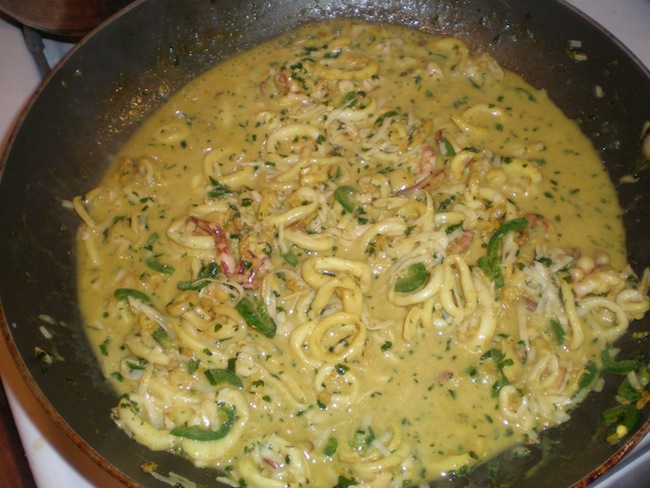 Add the coconut cream and vegetable broth. Stir until the sauce thickens slightly, about 1 minute.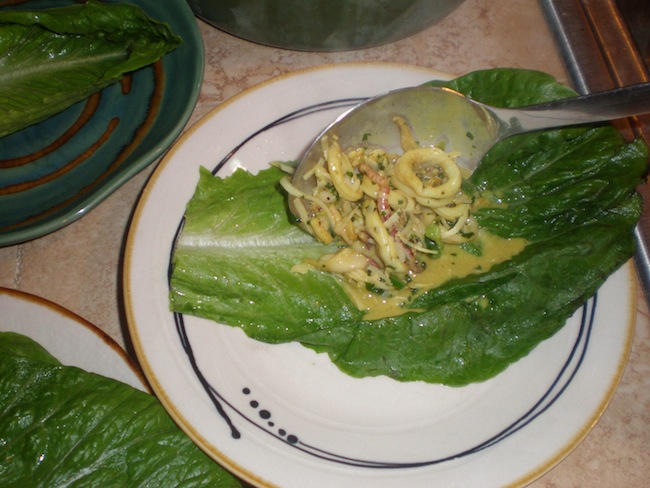 Arrange lettuce leaves on your plate and try to flatten it with your hands. Spoon the squid mixture on top and then garnish with the cucumber relish.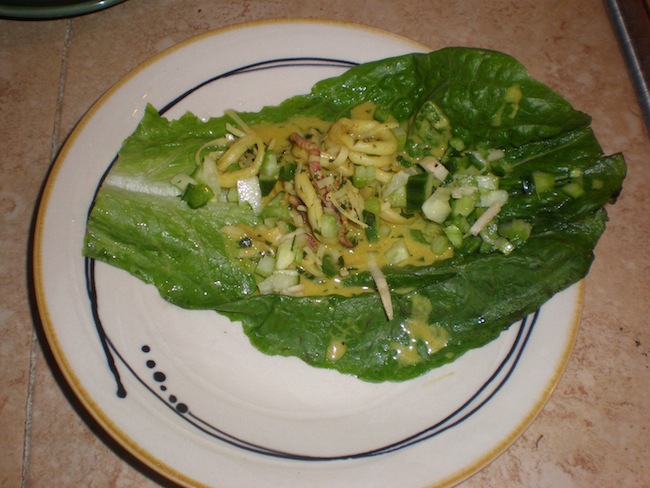 Optionally, scatter some cilantro leaves on top as well.
 Recipe adapted from the original, as published by Martin Boetz in a 2008 issue of Bon Appétit Magazine