Anais Mitchell: Young Man in America
Map Unavailable
Date
02/28/2012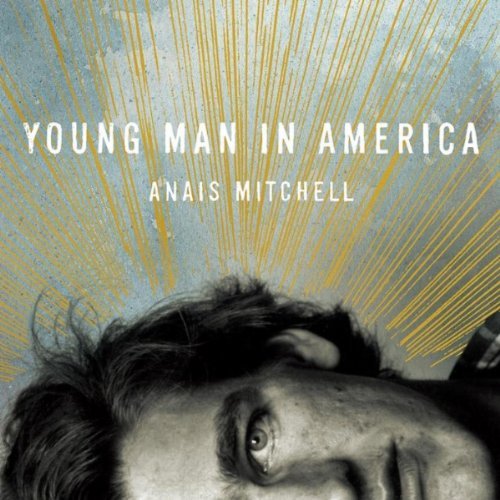 On February 28th, 2012, Vermont-based songwriter Anaïs Mitchell will release Young Man in America, her fourth album and followup to the critically beloved 2010 folk opera Hadestown, which attracted such guest singer as Justin Vernon and Ani Difranco. The album also landed Anais on "Best of 2010″ lists published by The Guardian, The Sunday Times and The Observer.
Before reading Anais' bio, I was unfamiliar with the term "folk opera." After listening to this album once through, it seems to be the only term that makes sense. I was so engulfed in her wild, sad-eyed world, I could hardly move my hands to write this. This album is like witnessing a natural wonder. 
If I may, I'd like to quote PopMatters, since they've somehow given words (and portrait) to every last thought that's been leaking around  my brain for the last hour:
"Young Man feels initially like you've just stepped onto the set ofDeadwood—beneath a silvery moon, suitcase in hand and a hatful of dreams. "Wilderland" is the sound of howling winds, a swinging noose, rattlin' street lamps, eerie violins, faraway flutes and foreboding tribal drums. "Look upon your children wandrin' in the wilderland", calls out Mitchell in her deceptively angelic tone. It opens the book with a sense of drama, tension, threatening like a gypsy's curse…with added wolves. The next 10 tracks unfold short tales worthy of McCarthy, Faulkner or O'Connor, all told in Mitchell's youthful yet captivating voice and set to some achingly beautiful rustic folk laced with tearful trumpets and serenading strings.
The songs speak of the rise—but usually fall—of the American dreamer, seen through the wide eyes of mostly feisty young males. Their tales are timeless and familiar, echoing hungry-heart heroes… Folks looking for salvation, escape from the chains of expectation, their past or even their own shadow." (Bless you Mr. Matt James, whoever you are. This is one of the finest reviews I've read in a long time.)
Here's Anais singing "Wilderland" as well as the title track:
And, I'd be remiss not to give you the lyrics for Man in America:
My mother gave a mighty shout
Opened her legs and let me out
Hungry as a prairie dog
Young man in America
Young man in America
Hungry, hungry, running every which way
Young man in America
I come out like a cannonball
Come of age of alcohol
Raven in a field of rye
With a black and roving eye
Black and roving eye
Ravenous, ravenous
What you got, it's not enough
Young man in America
Oh, shelter, mother shelter,
Mother shelter us
Oooh
My father was a lord of land
My daddy was a repo man
Put me out onto the street
Didn't give a damn for me
Did not give a damn
Daddy, daddy, gonna wish you never had me
I'm a young man
I'm growing right before your eyes
I might grow to such a size
Blow in like a hurricane
Everyone will know my name
Everyone'll know my name
Blowing in, blowing up
Shadow on the mountaintop
Young man in America
Oh, shepherd, father shepherd,
Father shepherd us
Oooh
In my feathers and furs
Clothes of many colors
Many men will envy me
When I'm in my finery
Me in my finery
Envy me, envy me
Spending all my bright money
Young man in America
Maybe I climb the stairs
With a girl of golden hair
Hold her like a sword and shield
Up against this lonely world
Up against the world
It's a lonely, lonely world
For a yellow-headed girl
And a young man
Like the wind I make my moan
Howl in the canyon
There's a hollow in my bones
Make me cry and carry on
Make the foam fly from my tongue
Make me want what I want
Another wayward son
Waiting on oblivion
Waiting on the kingdom come to meet me in my sin
Waiting to be born again
Mother kiss me cheek and chin
Mmm, a little medicine
Mmm, and then I shed my skin
Mmm, and lemme climb back in the bed you made me in
Just for kicks, here's Bon Iver's cover of Anais' "Coming Down."  Basically, it's a fucking perfect song regardless of whose fronting it, but Justin Vernon really does sing the shit out of it. 
One last note: for the love of all things holy, please go take the time to see Anais if she's in your city. I promise it'll be spectacular. Recently, a friend of mine who tours year round performing with / watching songwriters proclaimed that Anais was the best show he saw at SXSW. 
Additional Links:
Full review by PopMatters
Review by the UK Telegraph
Anais' session on World Cafe Live