Teriyaki Steak & Pickled Cabbage Sandwiches
Having never quite taken to the traditional steak sandwich, (ya know, the ones that are smothered in cheese and make that artery-clogging sound when they're being digested) I decided to try creating my own Asian-inspired version. To me, this recipe is all about creating the penultimate combination of flavor and textures. Each element could stand well on its own, (actually, I encourage you to make the steak as a grill item sometime) but they work best when playing of each others' strengths: fatty, delicious meat against the crisp, acidic cabbage; the salty soy marinade against a slightly sweet pickled salad; a tangy aioli against the warm, earthiness of the bread. I promise you, this one is a winner. And, as always, if you make this dish and find a way to improve on it or use its components in a new way, please email me with your discoveries. This is an ongoing work, and you're a part of it!
---
Ingredients for Steak:
1.5 teaspoons ground coriander
1 lb flank steak
½ cup soy sauce
2 teaspoons dark brown sugar
1" piece of fresh ginger, peeled and minced
2 garlic cloves, minced
1 teaspoon vegetable oil
Ingredients for Cabbage:
1 pound green cabbage, thinly shredded
1 scallion, thinly sliced
1/4 cup seasoned rice vinegar
½ piece of fresh ginger, peeled and minced
1 teaspoon sugar
3/4 teaspoon Korean chili flakes (available at Asian grocery stores)
Ingredients for Spicy Aioli:
3/4 cup mayonnaise
1/4 cup fresh cilantro leaves
3 Tablespoons soy sauce
1 Tablespoon Korean chili flakes
½ tsp ground Sichuan pepper
Half loaf of rye, pumpernickel or brown bread, toasted
---
Directions: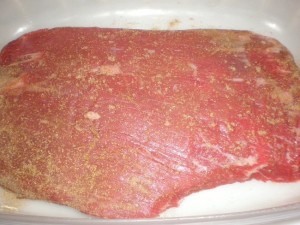 Rub the coriander onto both sides of steak.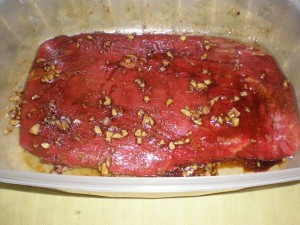 Stir together the soy sauce, brown sugar, ginger, garlic, and oil and it pour it over steak, turning steak to coat.
Marinate, turning occasionally, for 1 hour.
Turn your oven to broil.
Set your steak in a shallow casserole dish, 3 inches from broiler flame and broil 5 minutes on each side.
Turn the oven down to 350 degrees and cook another 20 minutes (depending on the thickness of the steak) until it reaches medium rare.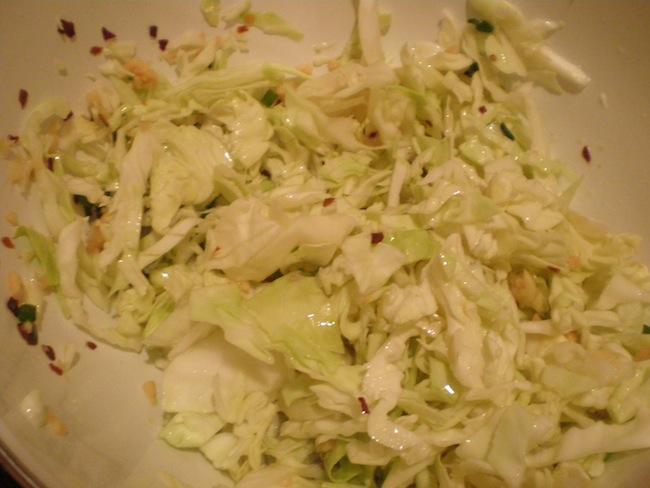 Meanwhile, put cabbage and scallion in a large bowl.
Bring the vinegar, ginger, sugar, and red chili flakes to a boil, stirring until the sugar dissolves.
Pour the hot dressing over cabbage, tossing to combine, and let chill for 30 minutes before serving.
Transfer the steak to a cutting board and when it's cool enough to touch, finely slice/shed it. This is not a scientific matter; essentially, you're trying to create a "pulled meat" texture, so feel free to use this as an anger-management session and really hack the meat apart.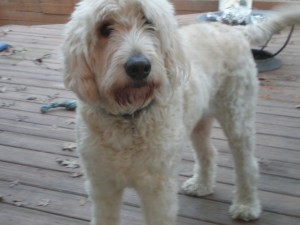 Note: before you start to hack at the steak, be so kind as to let the members of your household know that you'll be making a ruckus. I'm not sure if it was the smell of the meat or the fact that I was practically jumping up and down with a butcher knife, but I got a very strange, inquisitive look from my family's Golden Doodle.

To serve: Spread the aioli on both sides of the toasted bread, top with the steak and then put a giant heap of the pickled cabbage on top (as much as the sandwich will hold). Top with the remaining piece of bread and, if you're feeling delicate, hold the sandwich together with a toothpick.
Original recipe by Bre Goldsmith