Korean Flank Steak with Wakame Seaweed, Sake-Braised Mushrooms & Pickled Starfruit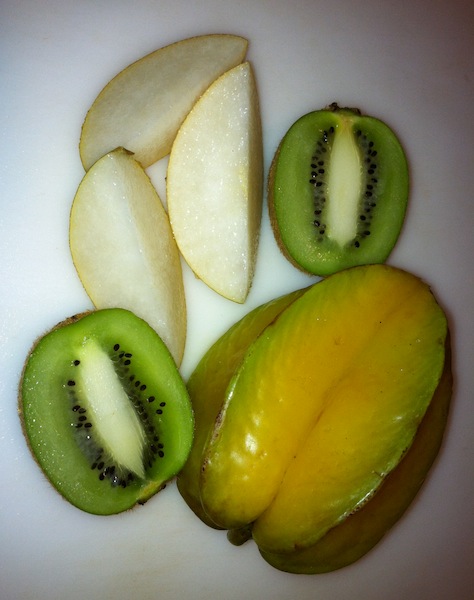 This meal happened beautifully and simply.
Late Sunday afternoon. I walked through the grocery store, empty head / full heart, grazing the vegetables, waving to random strangers in line at the meat counter and lingering on some warm pastries. The store was alive with list making and late weekend conversations. I wanted to take everything in.
Somehow, mid-wandering, the colors for this meal found my eyes. Somehow, my fingers grabbed the items and my brain agreed with them. The flavors developed later—much later—like at the exact second I poured a bucket of soy sauce over the steak. Yep, that's pretty much when the idea for soy sauce "happened."
This meal is delicious, no doubt. If pressed, I'd call it a modern take on Korean-Japanese fusion. But, I'm really not in the mood for titles.
 I work hard, as I assume that most of you who are reading this do too. I sit at a desk, staring down a computer screen with, at any given time, 30-40 Chrome tabs open and about 6 different jockeying Word documents. I'm not complaining. I know that I'm lucky to have a place to go every day that needs me. But by the end of a long Friday, there's a gloss that wears down on my eyes. There's a knotted slump in my back that can take whole 48 hours and a bottle of wine to jiggle free.
 This meal happened because it had to happen. Because I told myself that I needed to find something beautiful and make it a part of me. I needed to play, and walk foolishly around an aisle of fruit letting the weird hues talk to me.
 I ate this elegant meal while sitting cross-legged in my favorite pajamas. I swallowed it down with the last can of beer in the refrigerator and talked about it while chewing across from the one man who doesn't care when there's seaweed hanging off my forehead.
I was restored.
Ingredients:
 
For the Steak:
2 lbs flank steak
1 cup rice vinegar
2 tablespoon sugar
1 red chili, chopped
1 sliced garlic glove
½ cup chopped scallions
½ cup soy sauce
¼ cup sesame oil

For the Seaweed:
1 2 oz. package dried wakame seaweed
1/3 cup rice vinegar
1/3 cups soy sauce
¼ cup sesame oil
2 teaspoon sugar
1 tablespoon sesame seeds
1 tablespoon finely grated ginger

For mushrooms:
1 lb portabello mushrooms, finely sliced
1/2 cup cooking sake
1 tablespoon soy sauce
1 teaspoon diced ginger
1/2 stick melted butter
freshly ground black pepper

For pickle:
1 cup diced star fruit
1/2 cup diced Asian pear
2/3 cup rice vinegar
2 tablespoon sliced gingers
½ cup sugar
1 teaspoon Korean chili flakes
salt, to taste
---
Directions:
Combine all steak marinade ingredients in a large resealable bag. Add the steak and marinate it at least 8 hours, turning every 2 hours. (Major project = major payoff.) Essentially, you're curing the steak and loading flavor into every nook. When you eat it, good gosh, it'll be religious.
About an hour and a half before you're ready to eat:
Heat the oven to 350°. Carefully wash the mushrooms, then place them in a small, shallow, oven-proof dish. Combine the sake, soy sauce, butter and ginger, then pour over top so the liquid covers the mushrooms. Dust the mushroom tops with ground pepper. Bake for 1.5 hours, then drain the mushrooms from their braising liquid and set aside.
Reconstitute the seaweed according to package instructions (bathe, drain, rinse, etc.) Combine all seaweed ingredients into a bowl, adding more soy sauce to taste. 
Combine the starfruit and pear in a large mixing bowl. Add all remaining ingredients, cover and chill for 1 hour before serving.
Remove steak from the bag, pour off the marinade and lay it in a shallow baking dish. Broil for 4-5 minutes on each side. Slice thinly.
To serve: make a blanket of seaweed on the plate, top with the sliced steak, scatter with the mushrooms and mound the pickles fruit on top (discarding out the pickling liquid as you go). Optionally, garnish with sliced scallions. This dish can be served warm, at room temperature, and as I found out the following evening, it great eaten cold. 
Original recipe written by Bre Goldsmith