Design the Cover Art for Your Favorite Song? Yes, Please.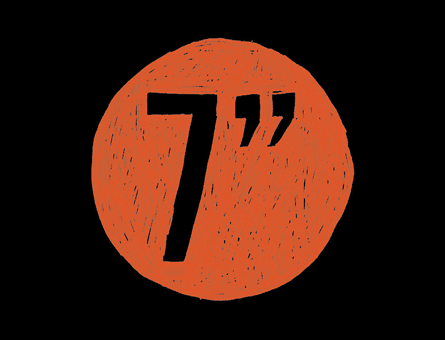 "Secret 7″ is a project which aims to rekindle some of the excitement for sleeve art in the digital era by exploring how a track would be interpreted by an array of brilliant artists." An open competition, Secret 7 offers artists (painters, illustrators, graphic designers) an opportunity to design vinyl covers for some of the biggest and most buzzed musicians throughout the world; each design existing as a visual answer to "how does this song make me feel?" and, "how do I convey everything that I love about it in a 7×7″ block?" 
If you ask a thousand enthusiastic listeners about what should be on the cover of an album, you'll probably get a thousand different, equally valid ideas. And this is exactly what happened.
Devised by the brilliant minds at Talenthouse and Universal music, the competition attracted the musical talents of  The Cure, Florence & The Machine, Bombay Bicycle Club, CSS, DJ Shadow, Noah & The Whale and Ben Howard (see below for music samples from each of these hosts), each of whom contributed one single as a design launchpad. On an ongoing basis, Talenthouse's platform welcomes creative talents to participate in design challenges / contents, such as designing merchandise for a national event, creating a music video for a famous artist or remixing a well known track. The incentive for winning is grand, immediate exposure and a tremendous resume builder; plus, the event, band or advertiser gets the rare advantage of having a multitude of "pitches" to choose from. Everyone wins. It's a fantastic concept, and the Secret 7 project truly highlights this while bringing fresh excitement to the synergy between music and printed art. 
Over the past few months, thousands of cover-designers have submitted 7×7 designs for their chosen song. And, on Record Store Day (April 21, 2012), 700 of the best works will be displayed and auctioned off at the Idea Generation Gallery, with proceeds to benefit The Teenage Cancer Trust. To add an extra creative surprise, no one at the gallery will know which work belongs to which song, so all design work will be open to interpretation!
After the gallery opening, cover winners will be chosen by the public via Facebook and Twitter. (Don't worry, I'll remind you about this when the time comes!)
Discover more about the project on Facebook and their website.
Now it's your turn! Listen to some of the music from Secret 7 hosts and see where your imagination/curiosity lead you. When the song ends, what's the image that's left in your mind? And, if you had to, how would you represent it on a 7×7 page?  
The Cure: Friday, I'm in Love:
Bombay Bicycle Club: Lights Out, Words Gone
CSS: City Grrrl
Ben Howard: Black Flies
Noah & The Whale: Old Joy
Florence and The Machine: If Only For a Night