Zelda Kaplan: a brilliant star & unparalleled inspiration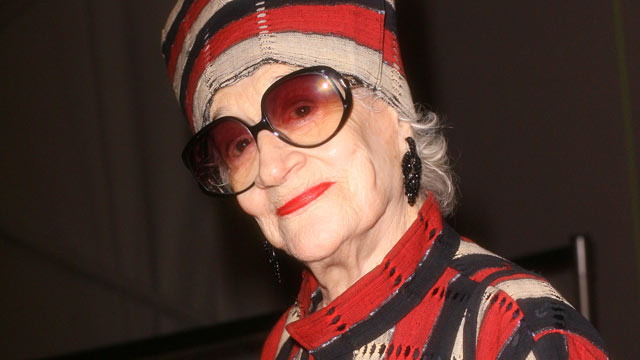 Zelda Kaplan, a brilliant 95-year-old New York socialite, died last month after collapsing in her customary front row seat at Fashion Week; the story of her exit was true to the story of the rest of her life: she was a dramatic fixture and self-invented character who always surrounded by friends, art and beauty. 
Although New York fashion lovers have long been aware of Zelda's colorful presence throughout the city, I think that many people in the rest of the country / world didn't become aware of her until news broke of her death last month. 
Zelda lived fully and in every direction; she had a fiery enthusiasm and gratitude for life that was rare for any age. 
Well into her 90s she was a strikingly dressed regular at nightclubs, fashion shows and parties in Manhattan while living there in a rent-controlled studio apartment. In fact, she danced the entire night at her 95th birthday party. Friend and fellow fashion-scener says "When Zelda was in the room, you knew it was an occasion. Her lust for life was unbelievable."
 She married and divorced twice, to a lawyer and then a doctor. In describing to NYmag what it was like to leave her first husband she says "he was the love of my life for ten years…[but] I was different than the other girls who stayed and were afraid to leave their husbands. When I discovered he was unfaithful, I packed up my bags and left." After the divorces, she moved to New York, working as a ballroom dance instructor and an art framer at a gallery; she most loved to attend parties and demonstrate the fox trot.  
Soon after, she developed a passion for indigenous cultures and, at the advice of Margaret Mead, travelled to Mali, then Ghana and Ethiopia. She founded and funded the World Culture Society, and made many trips to African and Southeast Asia on their behalf. She would hire a driver to take her from village to village, speaking to tribes about woman's rights and the perils of female genital cutting. Like all of her other efforts, her humanitarian work was tireless and full of adventure. In an interview with the New York Times, she says "I'm a curious person. I want to keep learning until it's over. And when it's over, it's over." Often, she'd return from her trips with woodcarvings and locally-woven fabrics, giving them to a New York dressmaker to be sewn and cut to her specifications. Her wardrobe was almost exclusively self-designed. The Times also quoted her as proclaiming "so many Americans want to look like everybody else. I don't think people should be happy to be a clone."
 In a NYmag interview that was recently conducted by Shira Levine, Zelda describes her regular routines: "I am a night person. I wake up around 5 p.m. and come down to my local café for dinner. I eat one meal a day, dinner. I start my day with dinner and feel great. If I wake up early I might have some orange juice … you know, I could have another twenty years ahead of me. I have no idea. I actually don't have a doctor. I feel great and don't have any complaints. I don't know what my blood pressure is and I really don't care. I exercise for about two minutes every day — a little running in place and then bending down and touching the floor."
When asked about her dating life, she responded "I date now and then, but…can you see me dating someone my age? It would be so boring. I feel like I am in my forties! I don't think I could ever be as attracted to anyone at my age.  I like a man with a sense of friendship. That is very important for couples to have, first with each other and then to discover more together the longer they are together. Sex is wonderful, but friendship is eternal. Also, friendship can last 24 hours a day."
And now for the statement that makes me love her the most:
"Traveling alone is the best, because if you're with someone then no one comes over to meet you. My rule with travel was to never go away for less than four months and it was usually traveling for seven months. I never have a timetable. If I go somewhere interesting and I feel comfortable, I just hang out. Maybe four weeks later I'll pack and go to another town. I like doing that. Just sitting around listening to the music and watching the people dance. I always look for the best dancers on a dance floor and go up to them and dance with them." – NYMag, by Shira Levine.