Spinach and Wild Mushrooms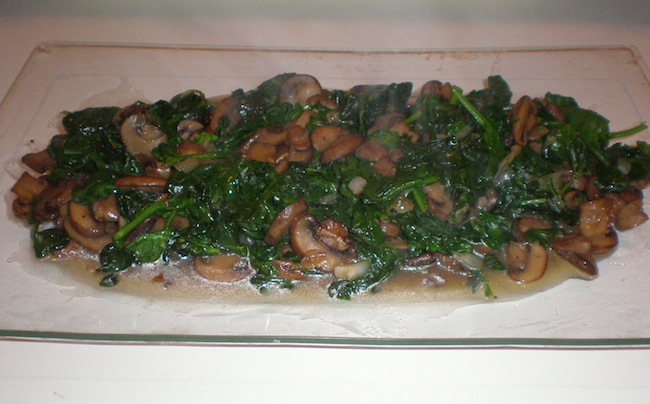 Anyone who has tried truffle mushrooms knows that they're a holy substance, and priced accordingly. Truffle oil packs the flavor of truffle mushrooms into a small bottle that costs anywhere from $10-20 and can last for years (like saffron, a little bit goes a long way). I bought mine at Whole Foods, but sometimes you can score a good deal in the kitchen sections of TJ MAXX or Home Goods (I know, weird, right?)
I made this dish to go with my family's Thanksgiving dinner and it was a huge hit: simple, delicious and an equally flavorful alternative to calorie-packed vegetable casseroles. Enjoy!
---
Ingredients:
4 tablespoons (1/2 stick) butter
20 ounces baby portabella mushrooms (or simple button mushrooms if they're more in your budget), thoroughly washed and sliced
2 large shallot, chopped
3 9-ounce bags fresh spinach leaves (well washed and patted dry)
2 teaspoons truffle oil
---
Directions:
Melt butter in large nonstick pan over medium-high heat. Add the mushrooms and sauté until their brown and toasty, about 8 minutes. Add the shallot and sauté another 2 minutes.
Add the spinach to the skillet (a handful at a time) and toss around, adding more spinach as it cooks down / wilts and there becomes more space in the pan. Continue sautéing until all of the spinach is cooked.
Stir in 2 teaspoons of the truffle oil and then serve, seasoning with ground salt and pepper, and more truffle oil, if desired.
Original recipe by Bre Goldsmith