New Music Tuesday: the Happiest Day of the Week
Good morning everyone! Happy Tuesday!
As a music lover, Tuesday is the happiest day of the week because it's the day that new music is officially released in the US (via Itunes and Amazon).
In case you're wondering— Wednesday is the second happiest day, because it's the day that you get to re-listen to every bit of wonderment that you discovered on — you guessed it — Tuesday!
This post is part of a weekly series that features my top album releases of the week, both well-known albums and stuff I've dug up through my daily prowling of the interwebs.
Disclaimer: As much as I try to keep up with things, there are tons of great albums that sneak through the cracks, and I need your help to put a stop to that ridiculousness. If there's an amazing album that I've missed, please send me a link (in the form below this monstrous posting) and I promise I'll check it out. I'll also try to talk about it in some fashion, maybe on my "third favorite day," Saturday. 
Without further ado, here's the list of stuff that is totally worth falling in love with:
Hope For Agoldensummer: Life Inside the Body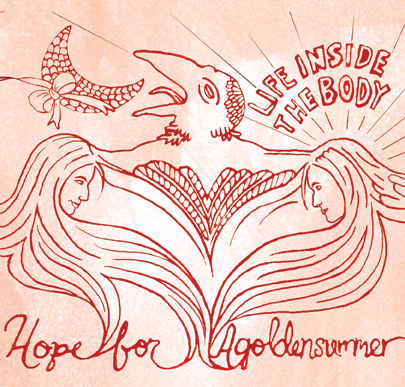 Hope For Agoldensummer is an Athens, Georgia-based indie-folk trio composed of sisters Claire & Page Campbell, and bandmate / engineer Suny Lyons. Their debut album Life Inside the Body
comes out today.
I discovered this band through Bruce @ SomeVelvet earlier in the year and immediately began searching the internet for more information about them. The first eight times I typed their band name into the search bar, I did so incorrectly. As a former Communications major, I'm incapable of morphing three words into one frankenstein creation. To do so, I literally have to place a sweater or similar barrier over the space key and then whistle loudly enough to distract my left temporal lobe from normal function (just kidding. I totally can't whistle.)
At the end of the end of my search, I found "Daniel Bloom," a song that feels as dusty and hopeful as an August lantern light; fragile as a lover's face, or the last golden, flicker of oil. This song has beautiful, heavy eyes and a simplicity that makes me want to write the rest of this post using only tiny, undercase letters. 
after the tenth listen, it occurred to me that in the splendid, folky, universe of this song, it's possible that all summers are, in fact, golden. hmm… i write, once again, "agoldensummer" feeling very formal, as though i'm calling the season by it's first and last name.
just for extra practice, I write "iloveyou."
Here's a short performance of "Hold Me Close," followed by "Daniel Bloom"
 Daniel Bloom Lyrics:
this is a love letter because we all need them
and they come. they come so rarely
i want to know can i love you the same
as before my heart strayed out of loneliness
oh and my days are too long
oh and my nights are too serious
 
daniel won't you come by my school
daniel won't you come by my school
I want to educate you
I want to educate you 
mister bloom, i've made some room
in my mind for thoughts of you
how i like the way your hair does curl
like the way the leaves do twirl
as they fall through our hands
 oh daniel
oh daniel
oh damn i will hold out
hold out
hold out
oh will you come for me
oh will you come for me
---
 Rufus Wainwright: Out of the Game
Rufus Wainwright's 7th studio album, Out of the Game
comes out today via Polydor. The album, produced by Mark Ronson, features his sister Martha Wainwright, drummer Andy Burrows, members of the Dap-Kings, Sean Lennon and Wilco's Nels Cline. The project has already received such notorious press that in late 2011, several publications declared Out of the Game on their advanced lists of "most anticipated releases for 2012." Woah!
Here's a video preview for "Out of the Game," featuring Helena Bonham Carter. Ahem, those last 3 words should be more than enough to get you to click on this. That woman has irresistible swagger. 
---
 Reptar: Body Faucet
Athens, Georgia-based Reptar releases their debut full-length album Body Faucet
 today via Vagrant Records. Start to finish, it's a sunny punk, electro, psychedelic, Island and Afro-beat wonderland— maybe even another planet. No joke.
Before you click on "Sebastian" (below) let me just warn you that this track caused quite a "rager" during my drive home yesterday. Somehow, just 2 minutes into both the song and my daily commute, I was surrounded by imaginary streamers, bongos, maracas, finger paints and, honestly, the most colorful rum concoctions I've ever seen! As far as imaginary parties go, this one was a dizzy, fluorescent affair, and it stripped the long workday so thoroughly from my mind that I wondered if it had happened in the first place. 
Do it NOW.
Additional Links:
Band profile by Project Rhythm Seed 
---
Sea of Bees: Orangefarben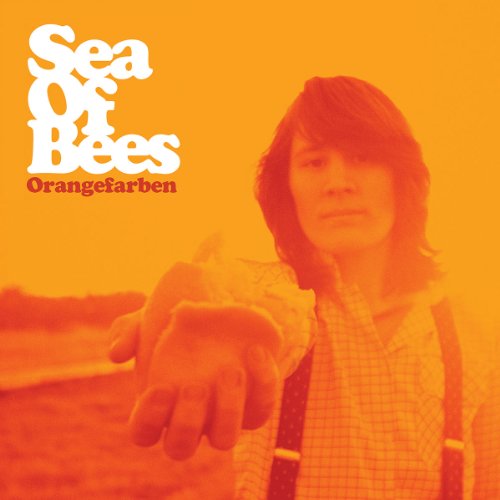 New York-based Sea of Bees, aka: Julie Ann Bee, releases her second full-length record Orangefarben
today. A fan of her work since 2010, it wasn't until this morning that I started pondering the metaphorical relevance of her moniker. Yes, her music is swarming at times, even lyrically stinging, but it's the concept of a sea that really intrigues me.
Julie is one voice, and the sole instrumentalist in this work. And yet she makes music that swells, that sweeps powerfully and carries you away with it. One person, indeed, but a grand emotional orchestrator, the maker of tidals. 
In nearly every song, there is a quiet, sparkling quality to her opening lines. The layering happens organically, expertly. Synthesizers rise, piano keys fill, and bass lines float and surge. And at once, there's dark matter all around you; you're swimming in something both exquisite and crippling. 
"Orangefarben, the second Sea of Bees full-length, is a beautiful and striving work that finds the young songwriter applying the same intrepid lyrical spirit that marked Ravens to an unblinking exploration of the unfolding and dissolution of her first love." —Sea os Bees' biography
Listen to "Wizbot," my most-listened-to track from her first release:
Watch the video for new track "Broke"
---
If you've read/listened to this point in the post: Congratulations. Your Tuesday is officially going to be EXTRA happy.
If for any reason, you're not happy enough yet or are still in the mood to procrastinate, go check out:
Father John Misty's Fear Fun
Norah Jones' latest album: Little Broken Hearts
Santigold's Master of My Make Believe
Nick Waterhouse' Time's All Gone